Service Menu
at Lewis Ford of Hays
OUR MISSION
AT LEWIS FORD OF HAYS...
. . . IS TO MAKE EACH CUSTOMER FEEL LIKE THEY ARE OUR "BEST" CUSTOMER BY PROVIDING QUALITY VEHICLES, PARTS AND SERVICE WITH HIGHLY PERSONALIZED CARE, AT A COMPETITIVE PRICE. OUR FRIENDLY AND EFFICIENT TEAM WILL DEMONSTRATE GENUINE CARE AND CONCERN WHILE FOCUSING ON ASSISTING YOU ON EACH AND EVERY VISIT.



BUY LOCAL.
BUY FOR LESS.
BUY LEWIS.
GREAT NEWS!
OUR DIAGNOSTIC FEE IS NOW ONLY $100!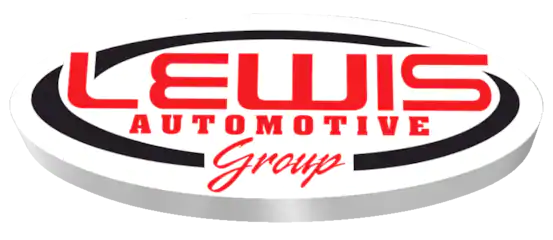 MULTI-POINT INSPECTION CHECKLISTRED, YELLOW & GREEN. WHAT DOES IT MEAN?
CHECK BRATTERY
CHECK BRAKE SYSTEM
CHECK TIRE TREAD DEPTH
CHECK TIRE WEAR PATTERN/DAMAGE & VALVE STEM
CHECK TIRE PRESSURE & SET TOFACTORY RECOMMENDED PSI
CHECK BRAKE LINING
CHECK SHOCKS/STRUTS AND OTHER SUSPENSION COMPONENTS FOR LEAKS AND/OR DAMAGE
CHECK STEERING, STEERING LINKAGES AND BALL JOINTS
CHECK EXHAUST SYSTEM FOR LEAKS,DAMAGE AND/OR LOOSE PARTS
INSPECT CLUTCH OPERATION (IF REQUIRED)
INSPECT CONSTANT VELOCITY (CV)
DRIVE AXLE BOOTS (IF EQUIPPED)
INSPECT DRIVE SHAFT, TRANSMISSION, U-JOINT AND SHIFT LINKAGE (IF EQUIPPED) AND LUBRICATE (AS NEEDED)
INSPECT OPERATION OF HORN, INTERIOR LIGHTS,
EXTERIOR LAMPS, TURN SIGNALS, HAZARD AND BRAKE LAMPS
INSPECT WINDSHIELD FOR CRACKS, CHIPS AND PITTING
CHECK HVAC SYSTEM AND HOSES/LINES FOR LEAKS AND/OR DAMAGE
CHECK ENGINE COOLING SYSTEM,RADIATOR, HOSES AND CLAMPS
CHECK ACCESSORY DRIVE BELT(S)
 CHECK FLUID LEVELS AND FILL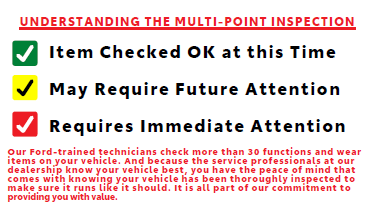 SERVICE PRICING
OIL & FILTER CHANGE CONVENTIONAL (*MOST MAKES AND MODELS LIMIT 6 QTS. $2.75 PER ADDITIONAL QT): $49.95
DIESEL ENGINE SERVICE: $110.00
TIRE ROTATION (LIGHT DUTY VEHICLES ONLY. SEE SERVICE ADVISOR FOR HEAVY DUTY PRICING): $25.95
ENGINE AIR FILTER (FREE INSTALLATION): $24.95
CABIN AIR FILTER (MOST  FORDS): $39.95
OIL SUPPLEMENT (NO CHARGE TO ADD): $16.95
FUEL CLEANER (NO CHARGE TO ADD): $27.95
ETHANOL KIT (REMOVES WATER IN ETHENOL TO PREVENT RUST): $39.95
BATTERY TERMINAL CLEAN (CLEANS & PROTECTS BATTERY TERMINALS): $34.95
OIL SERVICE (FILTER & OIL NOT INCLUDED): $87.95
FRONT DIFF FLUSH: $90.00
POWER STEERING FLUSH: $109.95
EVAPORATION CLEAN (REMOVES MILDEW & MILDEW SMELL IN A/C SYSTEMS): $134.95
INDUCTION CLEAN: $185.00
SYNTHETIC DIFF FLUSH: $199.95
COOLANT FLUSH (UP TO 2 GAL ANTIFREEZE): $199.95
BRAKE FLUID FLUSH (INCLUDES BRAKE FLUID): $199.95
BRAKES (CARS & LIGHT DUTY PICKUPS - PER AXLE): $224.95
DIESEL INJ. CLEAN (CLEANS DIESEL INJECTION SYSTEMS): $261.05
SUPER DUTY PADS (HEAVY DUTY PICKUPS): $274.95
TRANSMISSION FLUSH (REMOVES 95% OF FLUID IN TRANSMISSION): $289.95
KEY PROGRAM: SEE ADVISOR FOR DETAILS
*ALL PRICES PLUS TAX AND FEE AND ARE SUBJECT TO CHANGE WITHOUT NOTICE
AT LEWIS FORD...
...WE STRIVE FOR 100% CUSTOMER SATISFACTION 100% OF THE TIME. NOT ONLY WHEN YOU'RE PURCHASING OR SERVICING YOUR VEHICLE, BUT YOUR ENTIRE STAY WITH US HERE. IF OUR FACILITY IS NOT UP TO STANDARD, FROM OUR RESTROOMS TO OUR WAITING LOUNGE, PLEASE CALL OR SEE ANY STAFF MEMBER SO WE CAN ADDRESS THE PROBLEM.
THANK YOU FOR YOUR CONTINUED SUPPORT AND BUSINESS.
BUY LOCAL. BUY FOR LESS. BUY LEWIS.
MAKE YOUR NEXT FORD A LEWIS FORD!
Make an Inquiry
* Indicates a required field
Hours
Monday

7:30am-5:30pm

Tuesday

7:30am-5:30pm

Wednesday

7:30am-5:30pm

Thursday

7:30am-5:30pm

Friday

7:30am-5:30pm

Saturday

7:30am-12pm

Sunday

Closed